Garbage Country Logbook 2019
---
Week 1
Okay, here we are again! It's 2019. Shit. Where should I go with this project? In the past I always knew which thing to add next to a game, but now not so much. I've also been 'out of it' for too long I think.
Going to start up the game and write down what I feel about it. Trying to stay 'zoomed out' to help me decide on a direction for the next two months. I still want to work towards a prototype release by the end of that.
⭐️ Digging in the trash and seeing different things fall out is actually cool.
⭐️ Holding a bunch of items and running around with them is also fun to see.
⭐️ The unrealistic lighting is kinda neat.
⭐️ Seeing stuff built in the world that is still there, being overgrown. Cool.
➖ Clicking a plant to remove is just finnicky.
➖ The world is big and empty
➖ Putting down soil containers and throwing a seed on them is terrible.
➖ Players have no ownership of things, which makes everything feel 'random'. I don't feel this right now, because the whole world is 'mine'. But when everybody piles up stuff this is a problem.
Random thoughts for direction
What about combining the trash stuff with 'blueprints' that spawn from above. Then you have to dig around downstairs and come back up to find blueprint. Is it too complicated?

I had of course this idea for directly finding 'mini blocks' that let you build the corresponding block. Nuke the tech tree. But that would mean giving up on the trash completely, which is maybe too bad because the trash is cute?

I'm thinking about the plants, what if you just throw them at an an appropriate surface. Seed-bomb style. Again, this is nuking the tech tree.

Everything is trash? No more ground? Will that solve some stuff?

Okay, I think the main problem is what is the goal and the rest of the issues will have to fall in line with that.

Don't die?
Build yourself a home? (re: ownership)
Paint or decorate things?
Build some kind of utility for other people.

It kind of comes back to the ownership thing. If you can't own a part of the world, then the other goals don't really make sense either.

Rules for a home:

other players cannot build on a block within range of the home owned by that player.
other players cannot build at all within range of the home.
Additionally, cannot build on blocks owned by that player if they form a chain to home.
The above points aside, maybe I just need to get back into the groove with a task that's important for any path.
Building will have to be very smooth no matter what. That means a better preview of what's being placed and where.
It seems like player homes are also a prerequisite for any outcome.
Perhaps player death is too. Homes + death is already like a loop (you reset to your home).
Working on Habitats
I modeled a small tent.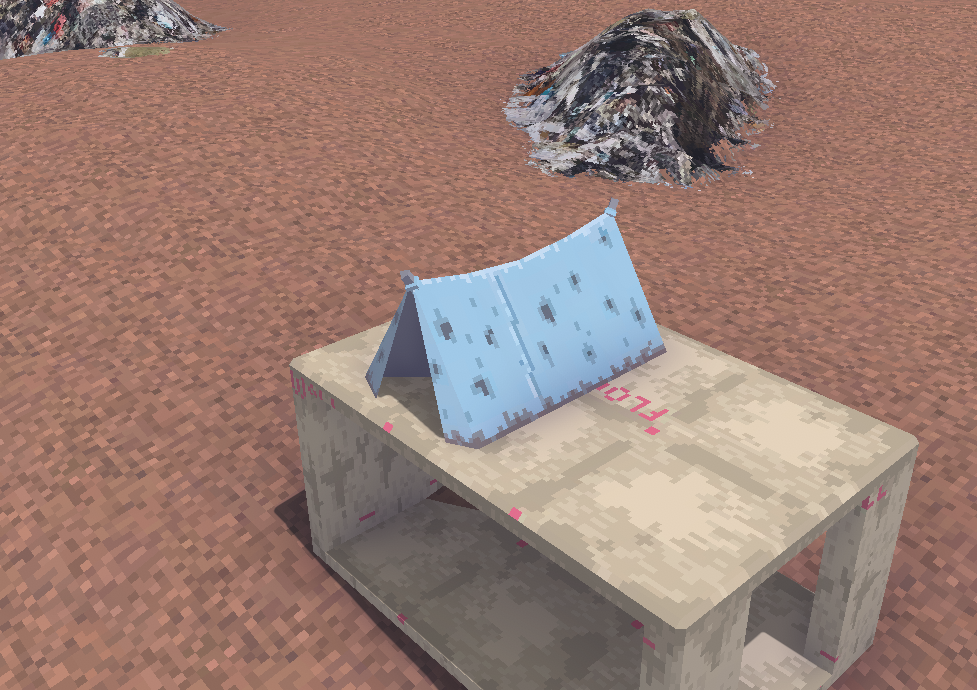 Allow placing tent (recipe)
Add "ownership" component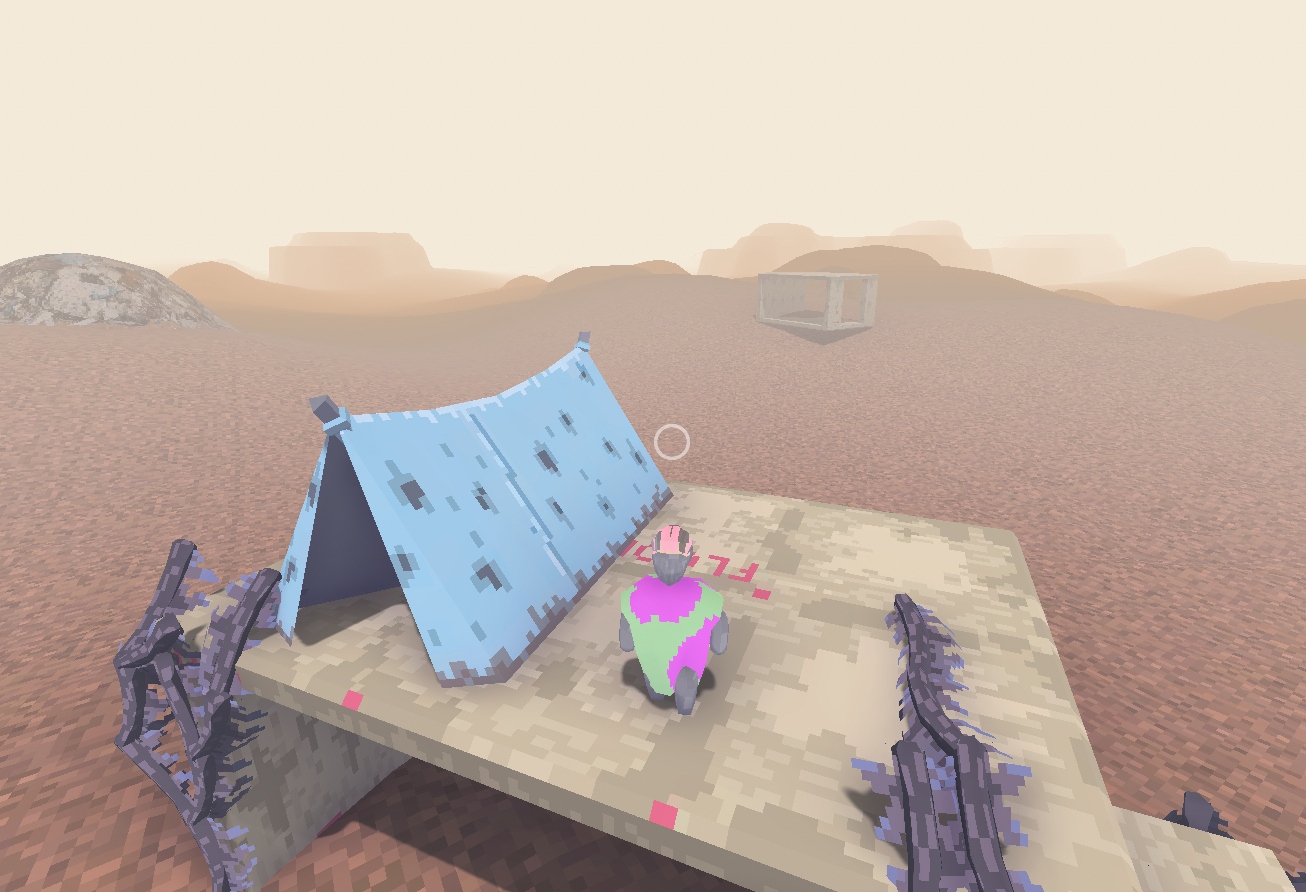 I've assigned ownership, now I want to visualise it.
---